Do You Need An ASL Interpreter?​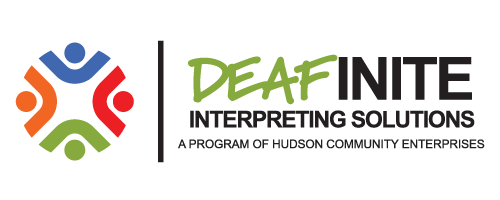 Through our social enterprise business, DEAFinite Interpreting Solutions, we promote equal access and clarity for the deaf community through effective communication. 
Deafinite Interpreting Solutions provides qualified American Sign Language (ASL) Interpreters for both onsite and Video Relay Interpreting needs, in addition to communication support and video creations in ASL. Our services ensure that you have effective communication with the people you work with and serve. These services are considered reasonable accommodations by the American with Disabilities Act (ADA).
Our interpreters are evaluated by highly qualified staff and are expected to adhere to the Registry of Interpreters for the Deaf Code of Professional Conduct 
Code of Professional Conduct – Registry of Interpreters for the Deaf (rid.org) 
Why hire a sign language interpreter?

 
American sign language is a rich, complex language with its own grammar structure and cultural context. The common misconception is that it is English language spoken in sign language, and that is false. It is not equivalent to spoken English, therefore requiring interpretation. By providing interpreters, you ensure that Deaf, Hard of Hearing, Deafblind and Late-Deafened people will benefit from all the services your business has to offer. Effective communication is critical for deaf individuals to be productive members of their community and to fully participate in society.
What is Video Remote Interpreting (VRI)? 
VRI uses videoconferencing technology to allow an off-site interpreter to interpret conversations, from English to American Sign Language (ASL) or vice versa, as if they were on site. VRI is utilized as a resource for ensuring effective communication when there is not an interpreter available onsite. While VRI can be scheduled in advance, a key feature is that these services can be accessed on demand quickly. 
Do you have qualified interpreters handy? Will you need two interpreters or one? Have you had a conversation with your employees about making this a recurring form of accommodation? A deaf-friendly business will honor and respect the cultural importance of interpreting services. It is equally important to recognize that not all deaf, hard-of-hearing, and deafblind people know how to sign, and to be aware that some may require a different form of accommodation. Regardless of your unique situation, we have a solution that fits your needs. We eliminate communication barriers so that you can do what you do best, no matter the consumer! 
You will be able to log in directly online. If you do not have access to this new system, please contact our interpreting department today. You will need to be granted access in order to schedule services and to receive confirmations/notifcations via email. 
Services are available 24/7 including after regular business hours, weekends, and major holidays. All emergency and urgent requests must be made via email.  
If you are new customer, fill out our request form.  If you already have an agreement in place with DEAFinite Interpreting Solutions, or if your request is less than 2 business days away, email us at deafinitesolutions@hce.works